About the Dream and Promise Act.
---
On March 12, House Democrats led by Congresswomen Roybal-Allard, Velazquez, and Clarke, introduced the Dream and Promise Act of 2019. Here are the Top 5 Things You Should Know:
1) The most inclusive immigrant bill yet! The Dream and Promise Act could provide permanent protections to immigrant youth and the 400,000 adults here with Temporary Protected Status (TPS) and Deferred Enforced Departure (DED).
2) Pathway to citizenship for immigrant youth, TPS and DED holders. Immigrant youth would be able to apply for conditional permanent residency (CPR) status and fulfill education, work, or military requirements before applying for lawful permanent residency (LPR). TPS and DED holders can automatically apply for LPR status, if they are eligible under the bill.
3) Access to In-State Tuition and Federal Financial Aid. This act would provide nationwide in-state tuition access to undocumented students. It also gives us access to federal financial aid and eligible for federal work-study programs.
4) Access to relief for deported community members. Immigrant youth who were deported as of January 20, 2017 and who qualify under this act may apply for relief. TPS holders who were deported as of September 25, 2016 or DED holders deported as of September 28, 2016 and who qualify for Act may apply for relief.
5) A vision for the future we want, need and deserve.
The Dream and Promise Act is a bold step forward for our communities. We need immigration policies that protect immigrant communities, without including more enforcement. House Members can help put an end to Trump's cruel anti-immigrant attacks by cosponsoring the Dream and Promise Act and reject any add-ons that strengthen Trump's deportation force or that could hurt our communities.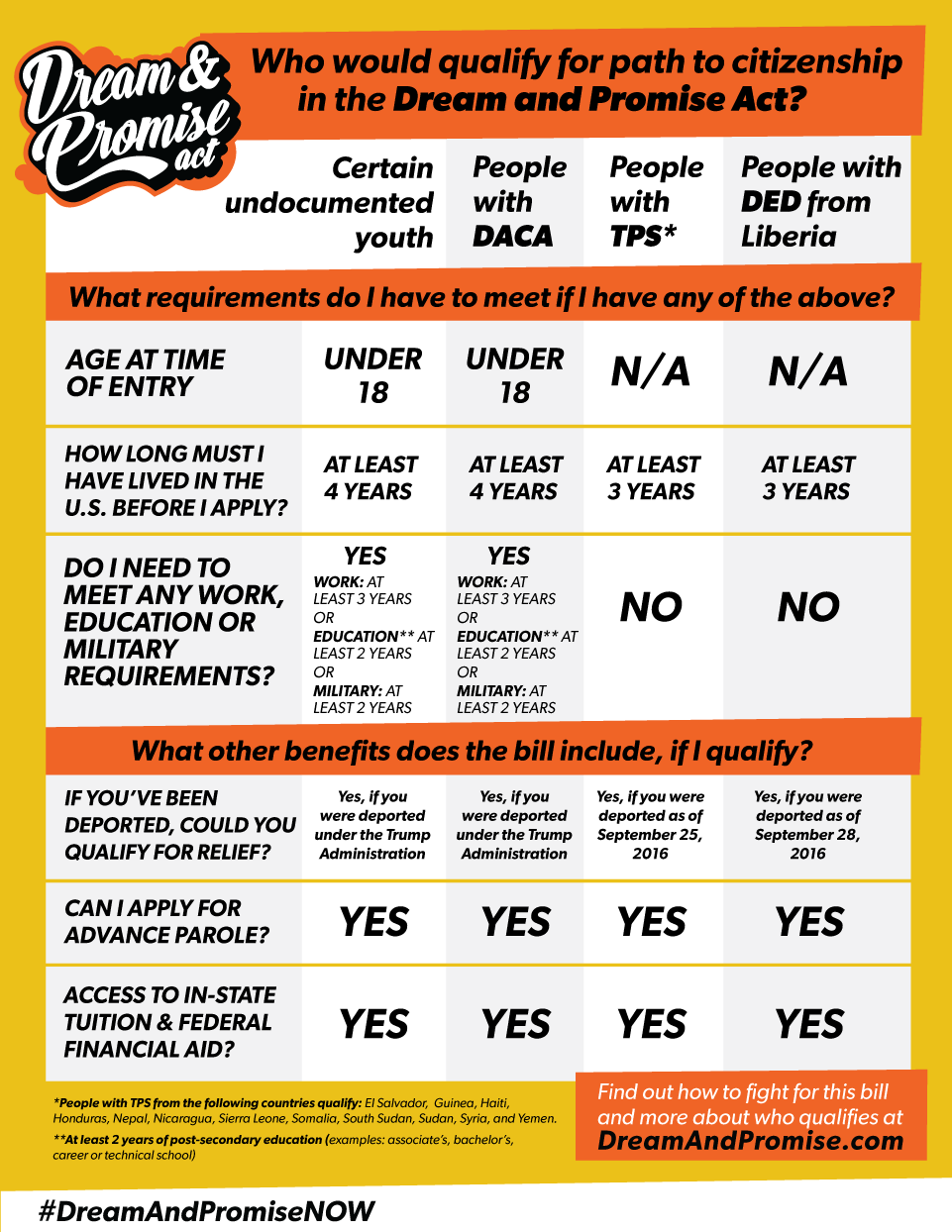 ---